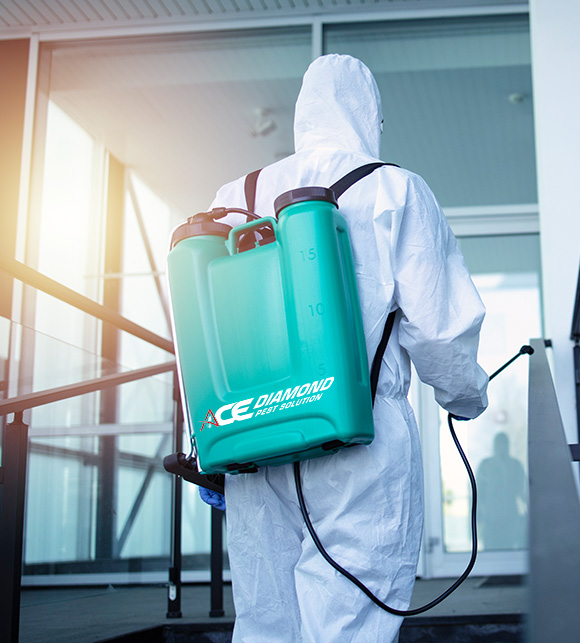 About Us
ACE DIAMOND


Pest Solution
Diamond Pest Control was established in the year 2001 to manage the company's professional pest control. We are an active member of The Pest Control Association of Malaysia and is registered with the Ministry of Finance.
The directors of Diamond Pest Control started the career with more than 10 years of experience in the pest control Industry. Our Industry is going through changes at an ever-accelerating pace. Consolidator, regulatory pressure, the green rnovemen, and enhanced customer expectations create at stress in our lives. Our business evolved, but there will always be two constants In our lives. There will always be insects, and people will not want to five with them.
Following a phenomenal business growth rate over the last few years. a dynamic new management team has been appointed to share our commitment to know about new technology and innovation. Our new management team is responsible for all services issues along with the day-to-day running of the pest control and hygienic operations.
By assessing working practice experience and improving staffs technical knowledge, Diamond Pest Control will be ensuring that the company maintains. Quality, Responsibility and Service Excellence.
The effectiveness of Diamond Pest Control has attracted much attention from the market place and has resulted in the company obtaining a fast growing list of satisfied valued clients. The future of Diamond Pest Control is bright as we have an effective system that is proven. the company is moving in a positive direction. providing the industry a much-needed professional approach to environmental Pest Management.
Free Consultation !
Call +6012-2289 555
Testimonials
What Our Client
Say's
Working for customer satisfaction
Hi JJ, thanks for the update, you and your team are really professional. Thanks for settling this issue so fast and efficient. I have another house got termites also. Please help.
谢谢你,你们的药效真好,那么快就解决了。我会把你介绍给我身边的朋友,你们服务真好。
谢谢你那么快就帮我解决了白蚁的问题,和给我家做定期检查。你们的服务真好,如果身边有朋友需要一定介绍给你们。
Certification
MPMA Certified Member &
CIDB Licensed Vendor
Quality, Responsibility, and Service Excellence.